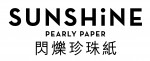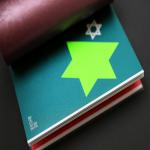 The pearlescent surface finish of SUNSHINE makes your printed matter radiant like the sun. The special pearly surface maximizes color contrast and brightness, adding a luxurious touch to your design.
Finish: Metallic finishes
Characteristics: 1 side pearlized, range of text & cover papers
Applications: Packaging, Cover, Menu, Name Cards, Certificate, Invitation card, etc.
| Code No. | Sub. Weight | Color | Finish | Size | FSC™ | Recycled | Low carbon |
| --- | --- | --- | --- | --- | --- | --- | --- |
| SU110A-2F | 110 gsm | - | Fine Needlepoint | 635x965mm | | - | - |
| SU150A-2F | 150 gsm | - | Fine Needlepoint | 635x965mm | | - | - |
| SU220A-2F | 220 gsm | - | Fine Needlepoint | 660x1016mm | | - | - |
| SU300A-2F | 300 gsm | - | Fine Needlepoint | 600x1016mm | | - | - |
| SU220I-2F | 220 gsm | - | Wetwood | 660x1016mm | | - | - |
| SU110L-2F | 110 gsm | - | Butterfly | 635x965mm | | - | - |
| SU150L-2F | 150 gsm | - | Butterfly | 635x965mm | | - | - |
| SU220L-2F | 220 gsm | - | Butterfly | 660x1016mm | | - | - |
| SU110Z-2F | 110 gsm | - | Pinweave | 635x965mm | | - | - |
| SU220Z-2F | 220 gsm | - | Pinweave | 660x1016mm | | - | - |
| SU300Z-2F | 300 gsm | - | Pinweave | 600x1016mm | | - | - |
FSC

™

Mix


Elemental Chlorine Free (ECF) /


Totally Chlorine Free (TCF)
Acid Free


Lignin Free


ISO14001